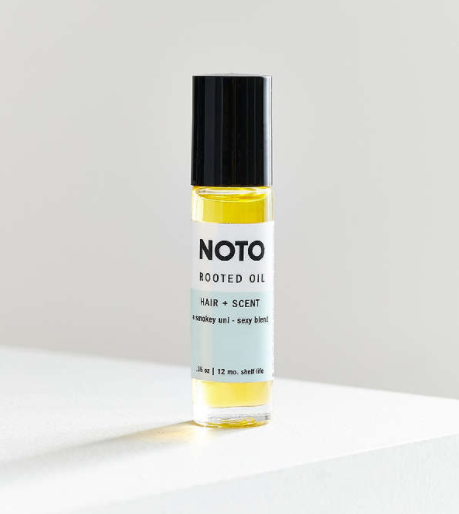 NOTO Rooted Oil
In stock, ready to ship

Inventory on the way
A travel friendly, moisture rich, uni-sexy scent for skin and hair. NOTO's Rooted Oil is a modern take on a the shamanistic smell of Palo Santo and other oils from the nature. Deep yet subtle undertones of smoke, wood, and earth, with hints of Bergamot and Cardamom give this scent layers of grounding. With a base of argan and fractioned coconut oil, it dually acts as a nourishing hair oil. Beards welcome. Travel and apply this precious nourishing essential oil mix as scent for body and hair.

Product Ingredients: Palo Santo Oils (ethically wildcrafted, natural purifier, concentration, grounding, mood lifter), Somalian Frankincense Oils (antiseptic, healing, anti-aging, protection), Haitian Vetiver Oils (calming, cooling, grounding, centering), Madagascar Black Pepper Oil (sensuality, mind stimulating + clearing),  Cedarwood Oil (toxin remover, soothing, optimism enhancing), Labdanum Absolute Oil (mind calming, anti-aging, grounding), Fractioned Coconut oil (nourishing, hydrating), Cardamom Oil (aphrodisiac, uplifting, antiseptic, camphorous),  Fir Oil (antiseptic, soothing), Birch Tar Oil (astringent, comforting, relaxing), Bergamot Oil (antiseptic, antidepressant, disinfectant), and Argan Oil (high in vitamin A and E, nourishing, anti-aging, anti-inflammatory).
.35 oz. 
NOTO is a uni-sexy, multi-use,  minimal essential full body cosmetic line. Packed with only the finest natural & organic ingredients coming from nature - giving you real results. Vegan & Cruelty free. Hand made by Gloria Noto with love. 
If you live in Austin and want to pick up in store, just use coupon code PICKMEUP at checkout to waive the shipping fee! For international shipping rates, please send inquiries to our CONTACT page.
Shipping Calculated at checkout based on weight and destination. Fulfilled and shipped next business day via USPS Priority Mail.
If you are in Austin, you can select "Pick Up" at checkout. For international shipping rates, please send inquiries to our CONTACT page.